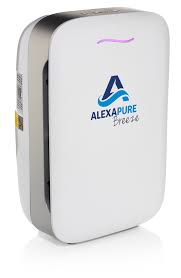 Outdoor air pollution has been in an all-time high especially for citizens living in the metropolitan areas. With the increase of motorized vehicles, continued use of unleaded gasoline for energy, power plant residues and all other allergens that could possibly surround us, it may be difficult to maintain clean, breathable air indoors.
Alexapure Breeze is the product that promises to do just that. It is an air filtration system created by a company called My Patriot Supply. The company has created two types of filtration systems, mainly, water purification and air filtration under the name of Alexapure. They are known also for their emergency and survival supplies, as well as heirloom seeds for sustainable agriculture.
What are the features of Alexapure Breeze?
If you are considering to purchase an air filtration system for your home, here are some key features that you might want to know about Alexapure Breeze:
Patented Ioncluster Technology
This technology helps get rid of airborne viruses and bacteria, thus preventing the spread of disease when there is someone sick in your household.
True HEPA Filter
The HEPA filtration system can remove particles as small as 0.3 microns. When a filter system is this powerful, it means it can accumulate most of the dust particles in your home.
Quiet Machinery
One of the disadvantages of some appliances is the noise they create during operation. Alexapure is generally quiet, with intensities as low as 30dB which is considered even quieter than a whisper.
800 Square Feet Coverage
Alexapure can cover as big as 800 sq. ft. of your room for air filtration. It is advantageous to place the appliance in an area where most of your family stays within the day, or transfer it to a room where someone might be prone to breathing-related difficulties.
Energy Efficient
It is good to know that Alexapure is energy efficient, and can cycle up to 120 sq. ft. every 12 minutes. It covers a large amount of area over a short period of time.
Easy Cleanup and Maintenance
Alexapure is sleek in design, which means all surfaces are relatively smooth and easy to clean. Just a simple dry wipe of the outer covering, as well as regular maintenance of the filters, is all it needs.
Intelligent Auto-Mode Feature
This allows Alexapure to detect the current air quality and adjusts its operation to suit the needs of the user. Depending on the presence of airborne bacteria, viruses, and other particles, Alexapure will adjust its filtration in a given area.
Is Alexapure Right for Me?
You may want to consider Alexapure if you or any member of your household is:
Suffering from airborne allergic reactions
If you or anybody in your family suffers from allergic reactions due to airborne particles such as dust or pollen, you may want to have your air filtration system to help relieve the symptoms of sneezing, coughing or colds.
Suffering from Asthma or other lung-related problems
Asthma is heavily triggered by air quality. If you or a member of your household has difficulties breathing, it will be a big relief to purchase an air filtration system that can clean up the particles in your home.
Having airborne diseases often than usual
Airborne diseases such as colds, influenza, bronchitis, and many others can be reduced when there is an air filtration system. The viruses and bacteria present in the air will have difficulties transporting from one person to another.
Alexapure for Easier Breathing
Alexapure is a product that can help lessen the spread of disease and improve breathing quality in your home. My Patriot Supply offers Alexapure at a $30 discount. For more information, visit their official website.